UMass Boston Sociology Professor Russell K. Schutt to Receive Chancellor's Distinguished Service Award at 2007 Commencement
<![if !vml]>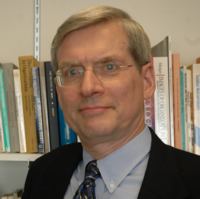 <![endif]>Committed to making the world a better place through his research, Russell K. Schutt, Professor of Sociology, will receive the 2007 Chancellor's Distinguished Service Award at the University of Massachusetts Boston commencement exercises, to be held on campus Friday, June 1, at 10:00 a.m.

A member of the Sociology Department within the College of Liberal Arts since 1979 and its former chair, Schutt is recognized for his service on and off campus that has helped shape the Sociology Department, the university and the community. The Lexington resident has offered his time and expertise in numerous ways, including sitting on an accreditation steering committee, helping students plan an alumni dinner, and conducting research that aims to improve housing for the homeless.
"Through his commitment to excellence, UMass Boston and service, he inspires in others that it is possible to work harder to do more," one nominator wrote. "He embodies what it means to be a professor, but more importantly a professor at UMass Boston –a place steeped in the community and public service."

Thrilled to be chosen because "it's a great honor and recognition for the work I've been engaged in at UMass," Schutt said it's natural for him to give of his time and experience.
"I am myself a graduate of a public urban university, the University of Illinois at Chicago, and I feel students at a school like ours deserve the best from their faculty and can achieve at the highest levels with the appropriate opportunities," Schutt said. "I have been very committed to providing opportunities for our students to engage in the types of research projects that both allow them to develop their skills and interests and also provide meaningful service in the urban community."
Schutt aims to make a difference by focusing on, among others, issues of housing and employment for the mentally ill and homeless. "All of his research is 'applied,' or service-oriented, guided by his background in organizational sociology, methodology and his commitment to making the world a better place," one colleague said.
Acting on the advice of a panel directed by Schutt, the state Department of Public Health is working to improve the Women's Health Network program that provides screening and referral services to low-income, underinsured and uninsured women at risk for breast and cervical cancer as well as cardiovascular disease.
Schutt is currently working with the Dana Farber/Harvard Cancer Center on a project funded by the National Cancer Institute that focuses on the disparate rate of participation between ethnic groups in cancer clinical trials. He is also continuing to analyze and publish data from a research project funded by the National Institute of Mental Health on homelessness and housing in Boston that began in 1990 at the Massachusetts Mental Health Center.
Schutt has a passion for sociology because it can provide decision makers with information about the impact of and need for particular programs and policies. "In my belief, sociology provides a way of understanding and improving the world around us," Schutt said.
As graduate program director, Schutt is credited with developing the Graduate Program in Applied Sociology into what "may well be the best program in applied sociology in the United States," according to one academic reviewer. As chair of the Department of Sociology, Schutt helped create the Criminal Justice major, recruit new faculty, mentor existing faculty and lead a major academic review.

Schutt's memberships on campus include chair of the Majors, Honors, and Special Programs committee; Search Committee for the Dean of Liberal Arts; co-chair of the Admissions and Financial Aid Subcommittee of the Chancellor's Strategic Planning Task Force, member of Faculty Council, and of the Faculty Development Grant Review Committee.
Off campus, Schutt has served as secretary to the Eastern Sociological Society, chair of the American Sociological Association's MA-Level Certification Committee and as Associate Editor of the Psychiatric Rehabilitation Journal. He is also a lecturer on sociology in the Department of Psychiatry, Beth Israel Deaconess Medical Center at Harvard Medical School.
The author of Investigating the Social World: The Practice and Process of Research and of Organization in a Changing Environment, co-author of Responding to the Homeless: Policy and Practice, and co-editor of The Organizational Response to Social Problems, Schutt has authored or co-authored more than 50 articles and book chapters on topics including homelessness, mental illness, law, substance abuse and sociology.
Schutt earned a PhD from the University of Illinois, Chicago and was a Postdoctoral Fellow at Yale University.
Citation for Commencement 2007
Russell K. Schutt
Distinguished service is a fundamental condition of all great universities.
Professor Russell K. Schutt, esteemed colleague, through your excellence in service you have made an invaluable contribution to our University's greatness.
You are a tireless captain in your department, having served as Sociology Department chair, graduate program director, initiator of the major in Criminal Justice, recruiter of exceptional faculty, mentor of junior faculty, and leader of two academic quality and development reviews.
Throughout the University, you are a stalwart and faithful colleague, having chaired numerous influential committees and task forces. Throughout this past year you have served as co-chair of the Enrollment and Financial Aid Subcommittee of the Chancellor's Strategic Planning Task Force, helping to guide our university with sure hand and steady vision into the future.
An authority within your profession, you have served as secretary to the Eastern Sociological Society, chair of the American Sociological Association's Master's-level Certificate Committee, and Associate Editor of the Psychiatric Rehabilitation Journal.
By lending your expertise in social science research methods to organizations such as Boston Health and Hospital's Long Island Shelter, the Department of Public Health's LifeLine HIV/AIDS Prevention Project for the Homeless, the Massachusetts Department of Mental Health and the Edith Nourse Rogers Veterans Administration Medical Center, you are an advocate for our community's most disadvantaged, a scholar whose work has produced powerful results. Your current project funded by the National Cancer Institute as part of the University's U-56 grant will serve as a strong foundation for improving community health.
Over nearly three decades as an engaged university community citizen, you have shared so much more than your wisdom and commitment with so many more beneficiaries than are mentioned here. Your history will affect countless futures in so many ways, but today we honor you with the 2007 Chancellor's Award for Distinguished Service.